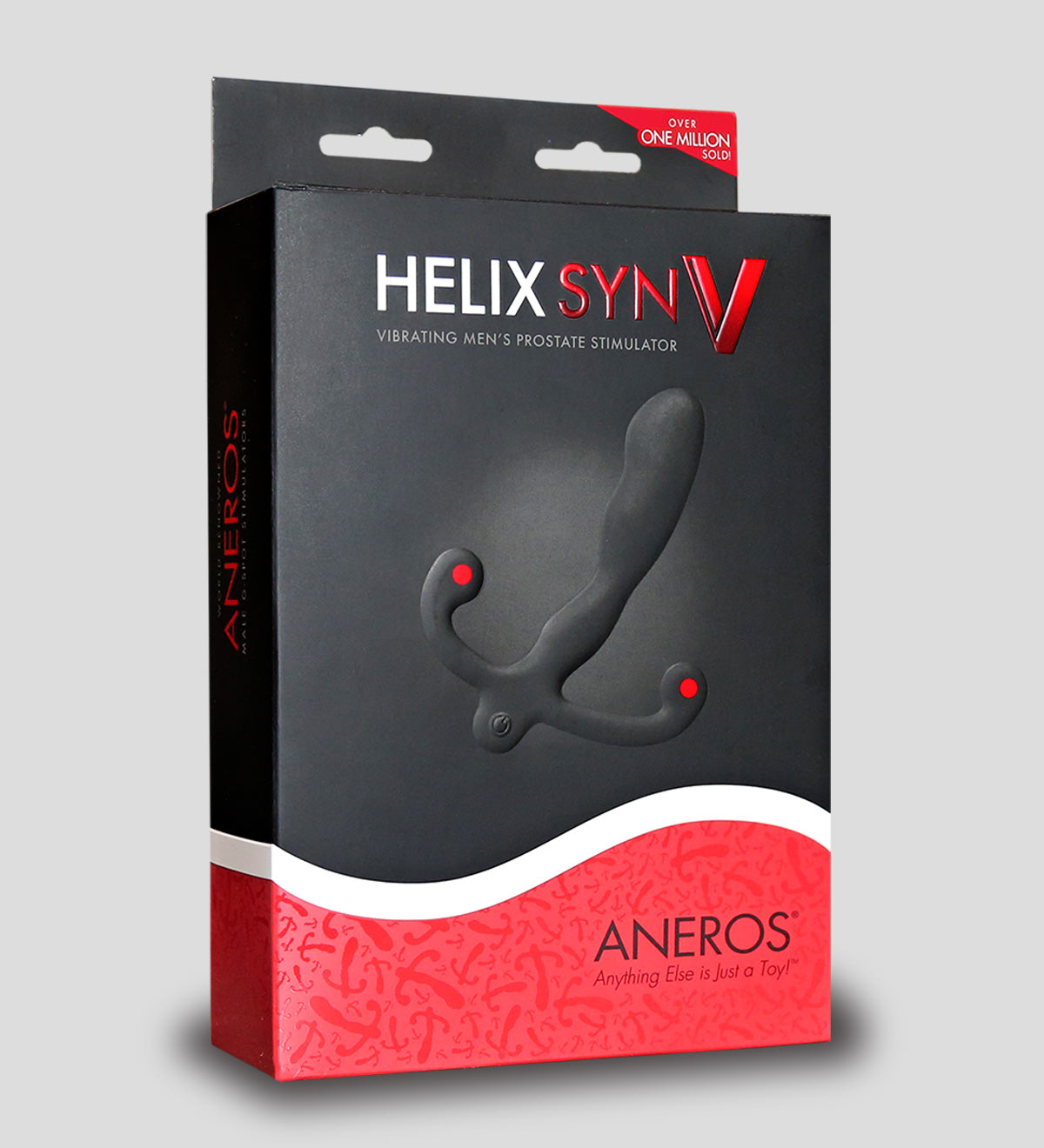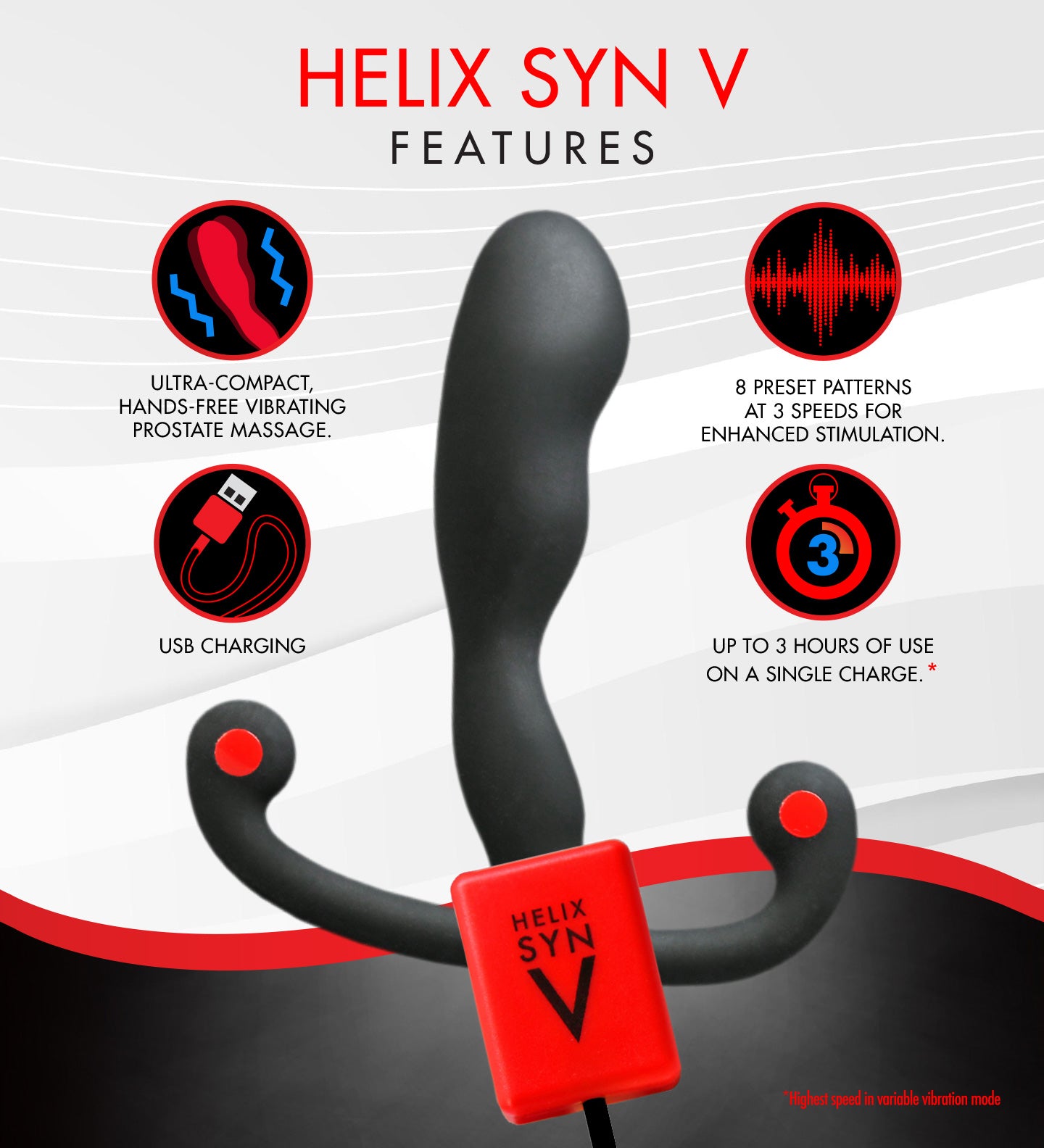 Helix Syn V
Sale price
$99.95
Regular price
(/)
---
Powerful vibrating version of our most popular model
More focused stimulation with superior responsiveness
8 specially tuned vibrations patterns with 3 speed selections
Superb performance in powered and unpowered modes
Ultra-compact handsfree prostate pleasure
Stimulates 4 erogenous zones simultaneously
Excellent for users of all levels
Unprecedented two time AVN "O" Awards winner for Outstanding Anal Product

Details

History Of Aneros Helix Syn V Prostate Massager

The Helix Syn V name speaks equally to function and legacy. In the first instance "V" signifies the vibrating version of the world's most popular handsfree prostate massager…the Helix Syn Trident. Second, it stands for the Roman number "V" or 5, as it is the 5th model to be created in the form of the original Aneros Helix body style. This history began with the release of the original Helix in 2004, as a part of the launch of the "New Generation" line of products. With its sleek lines and more pronounced head, within a year the Helix superseded all other Aneros products in sales. In 2012 Aneros released the Helix Syn, a hybrid version of the Helix featuring a rigid substrate overcoated in soft silicone. A more luxurious edition well-known for its ease of insertion, it quickly took top ranking of Aneros products. In 2017 the "New Generation" line was revamped with a rebalancing of the products using a new, MAMA® (multi-axial-motion) architecture. In addition to a different symmetry this new version featured a new tab (replacing the removal handle) . The result was more movement, responsiveness and stimulation particularly with respect to the Helix. With this, the Helix Trident was born. In 2019, a Trident version of the Helix Syn was released. Since that time the Tridents have received rave reviews and many industry awards. Completing the picture, the Helix Syn V was released in 2021. The Syn V is the first Aneros model utilizing the conformations of an Aneros legacy product with integrated vibration.


Features Of The Aneros Helix Syn V Prostate Massage

The Helix Syn V is a 5th generation anatomically designed hands-free male G-spot stimulator, combining design elements from our most popular model, the award-winning Helix Syn Trident with the added intensity of vibration. With a simple contraction Helix Syn V pivots inward and upward stimulating the male G-spot (prostate), anus, perineum and K-spot simultaneously. Helix Syn V's ultra-compact design produces quiet yet powerful vibration and can be used in two modes, powered and unpowered. Slightly larger than the original Helix Syn, Helix Syn V offers a unique experience in unpowered mode with fuller, more robust sensations. Powered mode provides 8 preset vibration patterns at 3 levels of intensity for a total of 24 enhanced sensory experiences, utilizing a simple multifunction button control. Low speed is for modestly elevated stimulation, a level that promotes more sensation while allowing the user to maintain full awareness of movement and responsiveness to contractions. Think of this as a "power assist" setting, terrific for Super O sessions, specifically designed for those who enjoy subtle stimulation. Medium speed is more than double the intensity of the low setting, yielding stronger stimulation while still providing an awareness of movement and responsiveness. A terrific setting for both Super O and traditional (non-ejaculatory) sessions. High speed is almost 3 times the intensity of medium and is specifically designed for those who enjoy high energy vibration. Great for traditional or Super O sessions. If you need a jolt to send you over the top, level 3 is your afterburner

Why The Aneros Helix Syn V Prostate Massager

Within months of the original Helix's introduction in 2004, the first requests for a vibrating version of the product started coming in. Shortly thereafter, this became a hot topic of debate in the Aneros forum with some users for it and others against it. To a certain degree the opposition was driven by the state of vibrating products at that time, which were large, unsophisticated, and more often than not desensitizing stimulators that many forum members shunned. According to the most successful Aneros users at the time, achieving positive results with the Super O involved a person focusing in on the subtle sensations of "prostate awakening" and magnifying those sensations into arousal with mental focus and measured stimulation. The concept of adding vibration was seen as disruptive and counterproductive. And in fact, while there were many users that posted about their own homebrewed attempts at combining prostate massage with vibration, few if any reported Super O success through this method. Undeterred, the calls for a vibrating Aneros continued. The fact is, for many years the technology simply wasn't there to make this possible, chiefly in the area of smaller motors and batteries. The VICE and VICE 2 were groundbreaking products utilizing smaller components configured into interactive, handsfree prostate massagers. Still, size wise, they were at the upper end of our range making them more suitable for users accustomed to larger devices.

The Helix Syn V marks a true turning point in the area of prostate pleasure made possible by the advent of a new generation of ultra-compact electronics. The result is a product that has the size, shape, responsiveness, focus and performance of our award-winning Helix Syn Trident, with the power of vibration. Designed in coordination with the Aneros user testing group, the Syn V features a curated selection of vibration patterns at speeds specifically selected for the encouragement and promotion of Super O's. The Syn V does this by producing subtle and moderate levels of vibration that generate sensation without desensitizing or masking the body's own responses to stimulation. With 8 vibration modes at 3 levels of intensity the Syn V offers 24 sensory experiences (we included a 3rd level for traditional sessions). When combined with your contractions the possibilities are veritably endless. Only slightly larger than the original Helix Syn Trident, the Syn V is excellent for new, intermediate and advanced users. It works equally well in unpowered mode, with the feel of a more robust version of the Helix Syn Trident. All things considered; the Helix Syn V is the most powerful and most versatile product we offer. It truly is the "holy grail" in powered prostate stimulation.
Specifications


A - Head Width: 0.92 in
B - Head Depth: 1.0 in
C - Mid Ridge Width: 0.85 in
D - Mid Ridge Depth: 0.9 in
E - Stem to Perineum: 1.5 in
F - Insertable Length: 3.6 in
60 Day Guarantee and Warranty

All Aneros prostate massagers come with a 60 day money back guarantee. Visit our refund policy page for details. Vibrating, electrical Aneros products have a two year warranty from the purchase date.
Care and Cleaning
Instructions

For instructions on how to use your Aneros, read the How To Use section of the Learning Center. Download a PDF of the Helix Syn V instructions below:

Shipping

Free standard US shipping on orders over $75. Expedited shipping is available as well. International customers are responsible for any import duties.
Helix Syn V
Sale price
$99.95
Regular price
Choose options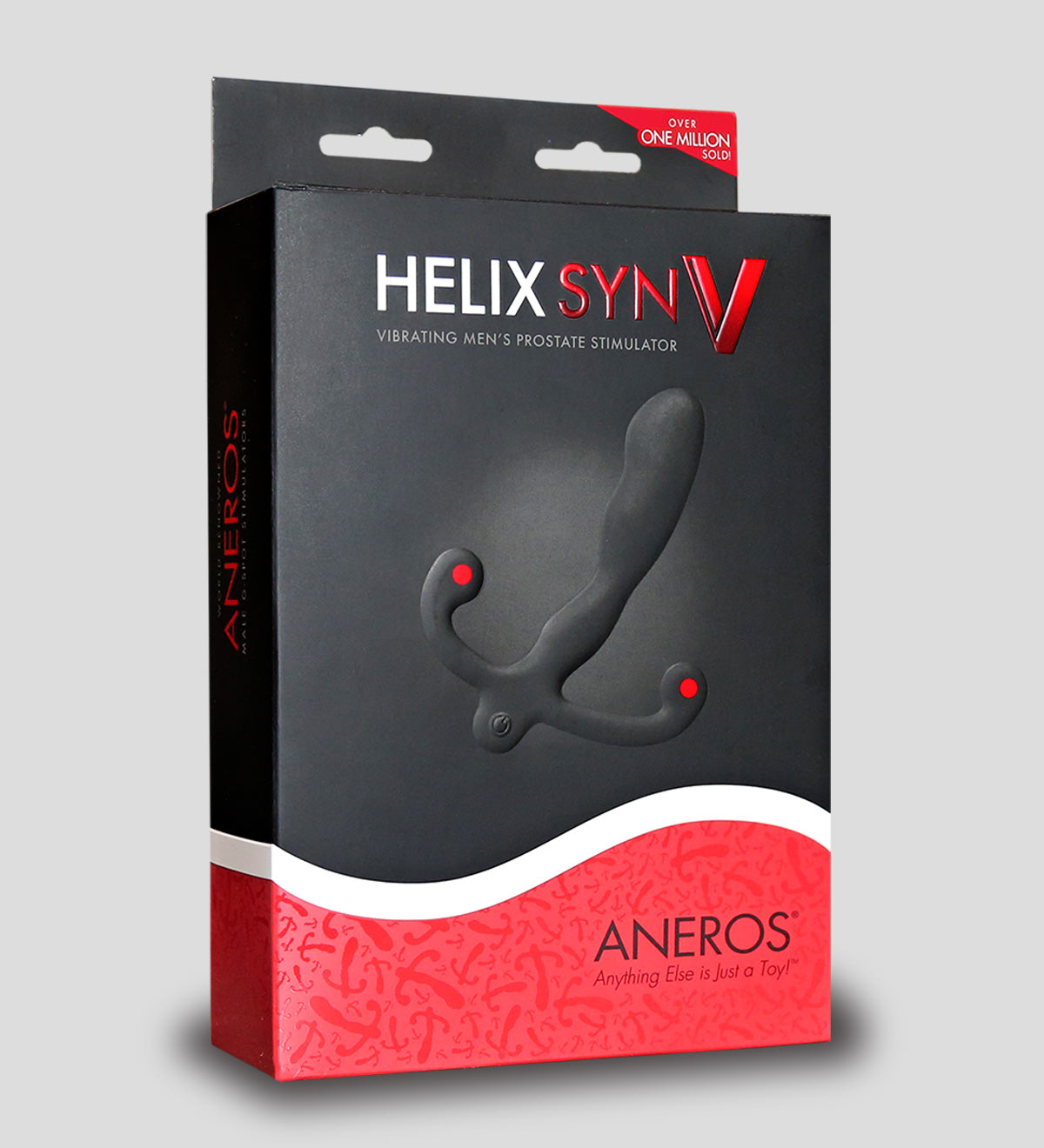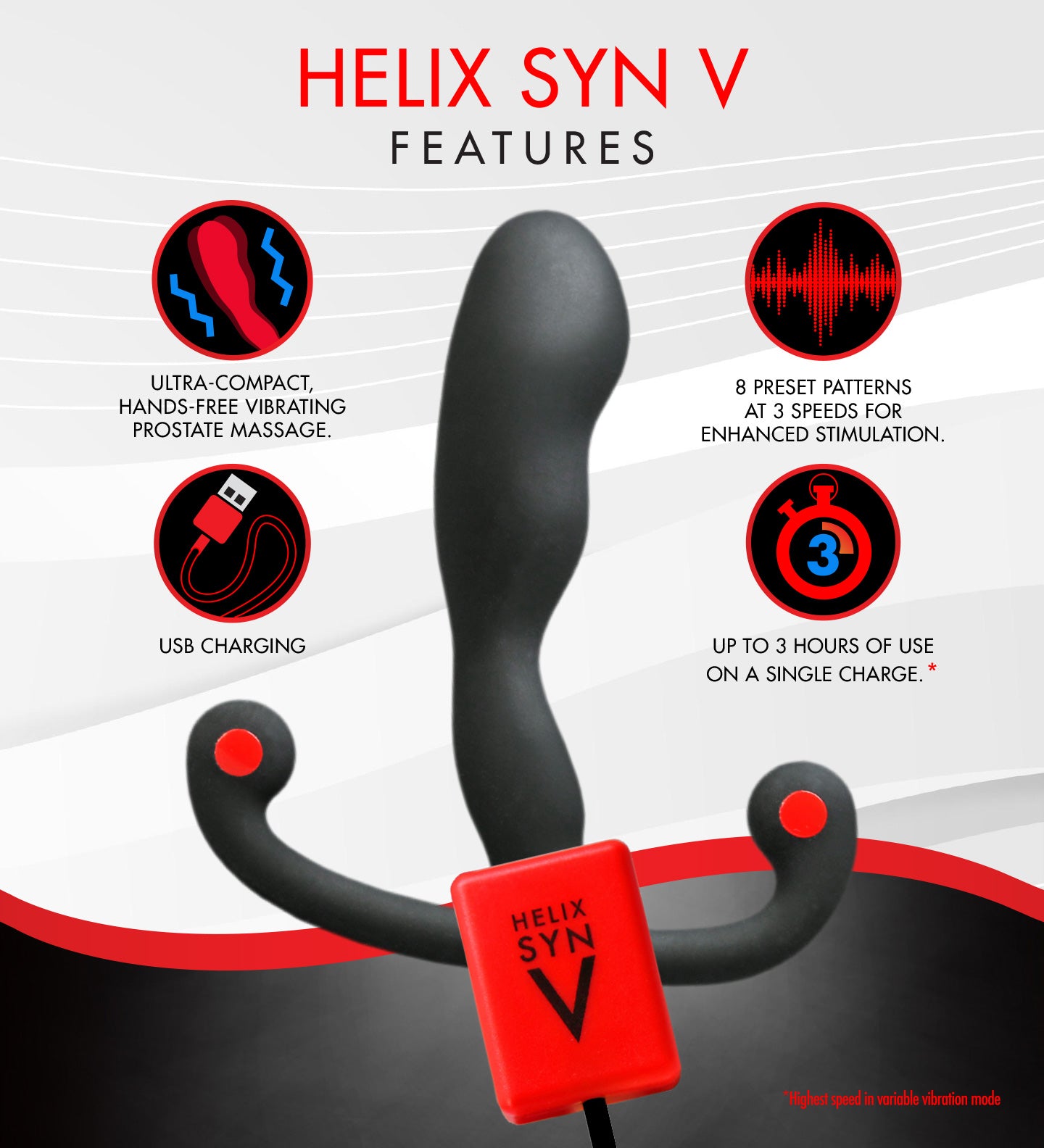 The De Facto Standard, No Equal, No Further Searching Needed.
I began my foray into prostate stimulation around 15 years ago. I started with the Aneros Helix back then, and after an initial learning curve, my results were off the charts. That toy unlocked a realm of pleasure I never knew was possible, and since unlocking that door, I continued to search for the "next level." This included adding much of the Aneros catalog to my collection over the years, and all have performed amazing feats, or provided unique experiences, but I still kept looking for new toys and new twists. As a result, I have explored nearly every prostate massager that has come along from other vendors, vibrating and non-vibrating, and they were all plagued with problems. Too intense, too big, won't stay in place, uncomfortable, over gimmicked, etc., in short, outside of Aneros products they were all pretty much duds. Money wasted. They all suffered from big promises, but delivered less than stellar results. Then one day the Helix Syn V appeared. The ultimate evolution and refinement of a tried-and-true product. To me it seemed perfect in every way. I purchased one immediately. When I got it, it was everything I had been chasing over all those years of searching for the ultimate prostate toy. Proven design, check, comfortable, check, stays put, check, vibrates just the right amount, check, or if you're not in the mood for vibrations, it's just as useful off. It is the perfect toy for any experience level. If you're still learning the subtleties of prostate massage, don't turn on the vibration. Mastered the non-vibrating toy? Turn on the subtle vibrations, and be reduced to a puddle where you lay. More than once I have looked at my collection of toys, and seriously considered throwing out all non-Aneros products, because this one is "IT" with a capital I-T. You cannot go wrong with this toy. It is literal perfection. No matter where you are on your journey, this is the one toy you absolutely NEED in your collection. Beginner and expert alike will reap all the benefits of this device. I have surveyed the competition and there is none that compares to this little wonder. It might be the only prostate toy you'll ever need. I even purchased a backup, should something happen to my original. It's that good, I can't wait to see what Aneros comes up with next.
New to me
The full body orgasms are mind blowing. You can't have enough stars. Great product.
The best in their line imo
This is the best in their line of products. Is not to small or to big and it can be used standalone or vibration. Also the vibration is just right its not extreme like the vice 2.
Mind blowing
I've had and enjoyed a Helix Syn without vibe for about a year, but this thing pushed me to the next level. Fun to start out with the vibe off and up the power as the prostate wakes up. By the time I get to level three, I'm on another planet.
would definitely recommend this model whether you use the vibration or not! The perfect shape as well as the smooth velvety surface make it easy to use and insert! Eventually you will want to experiment with the various vibration and intensity settings - only thing that would make it better would be an external remote!